From 17 August 2021, food and beverages will be supplied by Surinamese companies to the offshore drilling platforms of TotalEnergies in Block 58. This is another important step towards maximizing local content.
Staatsolie is committed to the development of local content to allow Suriname to benefit as much as possible from the offshore oil and gas industry. To this end, we work closely with companies that are active in the Surinamese offshore. Local content can be described as the extent to which Surinamese companies and citizens participate in the economic activities that the offshore industry entail. This concerns the supply of local goods and services and the filling of jobs by Surinamese.
TotalEnergies, through its main contractor Maersk Drilling, has taken a significant step by purchasing food and beverages for its offshore drilling rigs in Blok 58 entirely from Suriname as of this month. This result came about after consultation between Staatsolie, TotalEnergies and Maersk Drilling. Purchasing food and beverages entirely from Suriname will be subject to availability of provisions and ability of the supply boat to enter the harbor on bi-weekly basis. Approximately 350 people work on the drilling platforms, of which around fifty are Surinamese.
Deliveries are made with special supply vessels, three of which are dedicated for the Suriname operations. Shipments take place from Kuldipsingh Port Facilities on the Suriname River in Dijkveld. The supply vessels bring drilling waste from the rigs ashore for treatment and carry food and beverage supplies to the drilling rigs. Diesel for the rigs and supply ships is also purchased in Suriname. The revenues from the diesel deliveries can reach US$ 30 million per year.
Staatsolie is putting maximum effort into having the storage area for pipe and drilling material, the so-called lay down area, also set up in Suriname. TotalEnergies is preparing a tender for this. Once the Suriname River has been dredged and the fairway is deeper, it will be possible to deploy supply vessels with a greater draft. The fairway is expected to have sufficient draft by the end of 2021. This will offer more opportunities for local producers and suppliers of goods.
Staatsolie wants to regularly inform all stakeholders, including local suppliers of goods and services, about interesting developments in the Surinamese offshore oil and gas industry. Relevant information will be shared with stakeholders and the public via the website www.staatsolie.com/en/floodlight-on-local-content.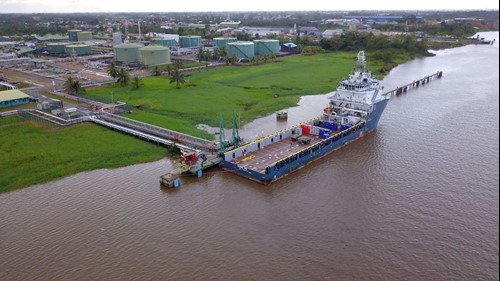 The supply vessel takes in bunker fuel at the Staatsolie refinery.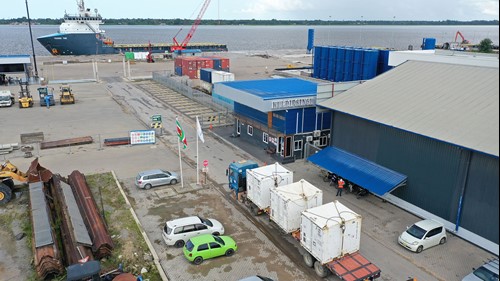 The containers with food and beverages are delivered to Kuldipsingh Port Facility.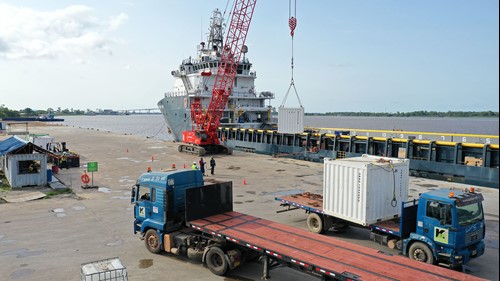 The containers with food and beverages are loaded.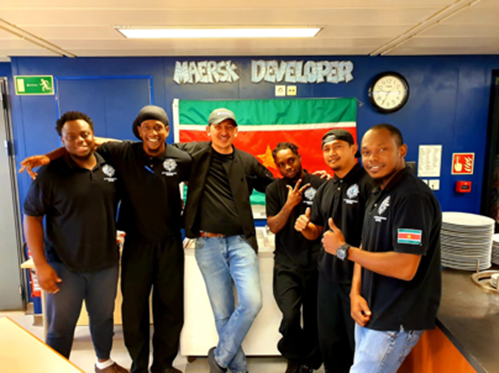 Surinamese crew members on the drilling rig.