On 20 December 2018 Staatsolie Maatschappij Suriname N.V. signed a contract with Seadrill Limited for the provision of drilling rig services in the nearshore area off the Surinamese coast. Seadrill will mobilize the West Castor to Suriname and operate the rig in the first quarter of 2019 for drilling activities.
In April 2019 Staatsolie will commence with the exploration of nine wells. The execution is largely divided over three main contracts: Drilling Rig, Logistics and Integrated Rig Services. Staatsolie previously signed a logistics contract on 27 November 2018 with Medserv International Ltd. Medserv, in collaboration with local partner Kuldipsingh, will be responsible for the logistics of people, materials and vessel transport. The third contract, Rig Services, is awarded to Halliburton for supporting services such as rig positioning. It is expected that this contract will soon be signed. In September 2018, Staatsolie signed a letter of intent with the Coast Guard of Suriname to provide security during the drilling operations. With the successful awarding of these contracts, a preparation phase of eighteen months is concluded. During this period, social, environmental impact and safety studies and the design phase have been carried out as well as detailed well engineering and design. These contracts have a term of approximately twelve months. Throughout the contracting process, Staatsolie sought to ensure the economic benefits of this project would remain in Suriname. As a result, local content and involvement of Surinamese businesses were emphasized wherever possible.
The Nearshore Drilling Project includes the drilling of nine exploration wells in the sea just off the coast in April 2019 until the first quarter of 2020. This area up to forty kilometers from the coastline is called nearshore and has water depths of up to thirty meters. Staatsolie aims to safeguard long-term production by detecting nearshore reserves. This is the first step to achieve this goal. The drilling program is carried out by Staatsolie independently.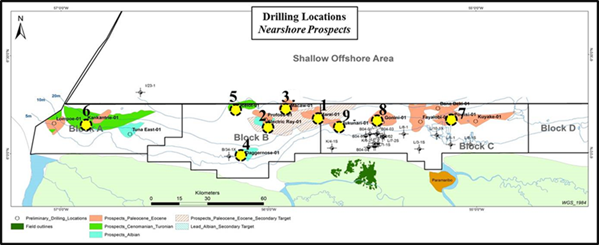 Seadrill is an offshore drilling contractor based in Hamilton, Bermuda, and provides rig services to the oil and gas industry. The company is operated from London and is active in Angola, Brunei, the Republic of Congo, Indonesia, Malaysia, Nigeria and Norway.
Medserv International delivers integrated logistics support and services, including engineering for plant and equipment used for the exploration and production of oil and gas from offshore fields. Medserv operates from its permanent base in Malta, but also has operations in Cyprus, Egypt, the UAE, Oman, Iraq and Libya.
Halliburton is an American multinational and one of the world's largest oil field service companies, with offices in more than seventy countries. The company is no stranger to Suriname and has already supported various onshore drilling operations at Staatsolie.