Staatsolie Maatschappij Suriname N.V. (Staatsolie) and Chevron Exploration Suriname Limited (Chevron) are pleased to announce they are expanding their cooperation in shallow offshore Suriname. A production sharing contract for offshore Block 7 was signed for this purpose on 26 April 2022.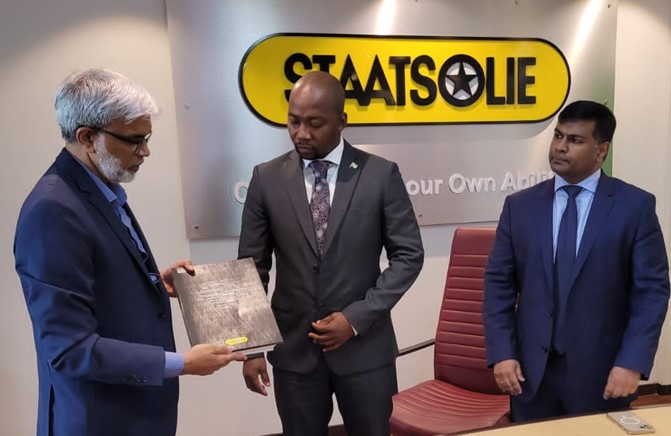 Staatsolie's CEO Annand Jagesar hands over a copy of the contract to Minister of Natural Resources David Abiamofo. On the right Chevron's Suriname Country Manager Channa Kurukulasuriya. 
With the signing of the Production Sharing Contract (PSC), Chevron, with an eighty percent participating interest, has obtained exploration, development, and production rights in Block 7.  Staatsolie has a twenty percent participation share through its subsidiary Paradise Oil Company N.V. (POC). The cooperation between POC and Chevron was confirmed with the signing of the Joint Operating Agreement (JOA) in which the arrangements between the partners are laid down.
Read more in the press release.