Staatsolie Maatschappij Suriname N.V. and its new partner Columbus Energy Resources PLC from England, signed the production sharing contract for the Weg naar Zee block on Thursday 3 October 2019. Columbus Energy Resources will search for oil in this area, which has a size of 901 km².
Columbus showed interest in the Weg naar Zee (WnZ) block within the 'Open Door Invitation 2019 for Onshore Suriname' and made an offer on 11 January 2019. Rudolf Elias, Managing Director of Staatsolie, and Leo Koot, Executive Chairman of Columbus, signed the contract on behalf of the companies. The agreement is valid for thirty years. It has been agreed between the two parties that a minimum exploration program will be carried out during the first seven years. It consists of the following activities:
Phase
Duration
Activities
1
3 years

Focus on the WNZ block central area.
Finish an appraisal program.
Test at least two oil reservoirs.

2
2 years

Drilling of three exploration wells.
Gather 100 km of 2D seismic data outside the WNZ block central area.

3
2 years
Drilling a minimum of five exploration wells outside the WNZ block central area.
All costs in the exploration phase are for the account of Columbus. Staatsolie has the possibility to participate up to a maximum of fifty percent in the development and production phases. The production sharing contract pays explicit attention to inspection, safety and the environment. Provisions have also been included for employment for local staff, training, social programs and the way in which facilities will be dismantled at the end of the work.
Background Information
Staatsolie, as the holder of the mining rights for hydrocarbons, transfers part of its concession area to a contractor through a production sharing contract. If the exploration activities have not led to a commercial find, Columbus will not be reimbursed and Staatsolie has no further obligations towards Columbus. In each PSC it closes, Staatsolie has the option to participate as a contracting party for a certain percentage. Columbus is a small listed oil and gas company, focused on exploration, development and production activities. Its head quarters are in London, with operational activities in Trinidad & Tobago.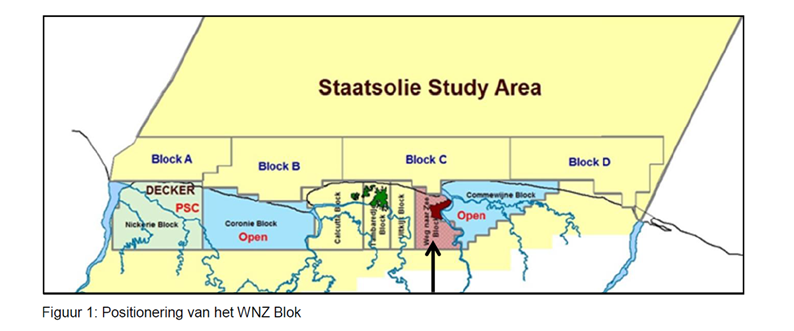 Map showing the Weg naar Zee block (arrow)